Catalog "64"
Buford, Georgia, U.S.A.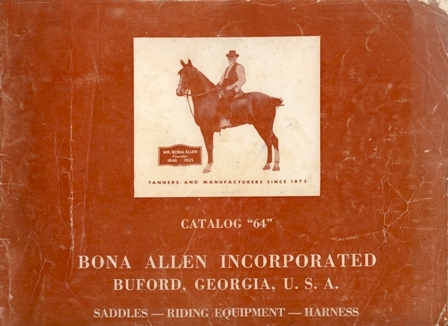 We feel very fortunate to have found this very rare original catalog, and to have the opportunity to share it with you.
Here's a few of the many Saddles displayed in the Catalog.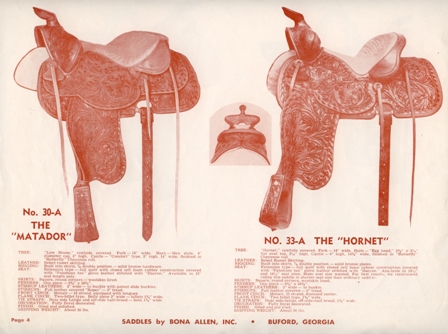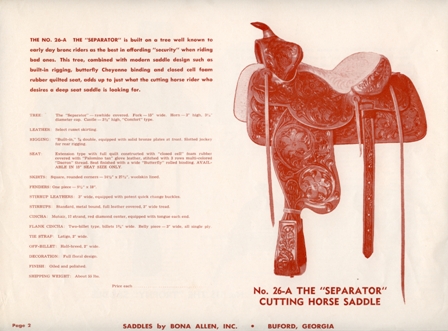 Bonaparte Allen learned the trade of tanning from his father, Washington Allen. Bonaparte opened the Bona Allen Company at the age of 27 and operated it as a tannery and leather goods shop. It started off making whiplashes, then followed with the production of horse collars. In 1903, a fire swept through the building and destroyed the business and the entire building. Allen lost everything. But, thanks to his established business track record, a local bank loaned him the money he needed to re-establish and rebuild his business. It didn't take Bonaparte long to restore his thriving business and pay off all of his debt. [1]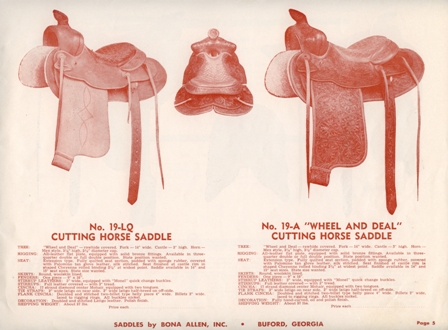 In 1925, Bonaparte Allen died. He left everything to his sons, Bona Jr., John, and Victor. They took over their father's business and continued to produce what some people have deemed the country's finest leather. The Great Depression of the early 1930s had a positive effect on the Company's tannery. The nation's farmers could no longer afford to operate their tractors, so they had to return to using horses. This, in turn, created a demand for saddles and collars, as well as all other horse related equipment.[1]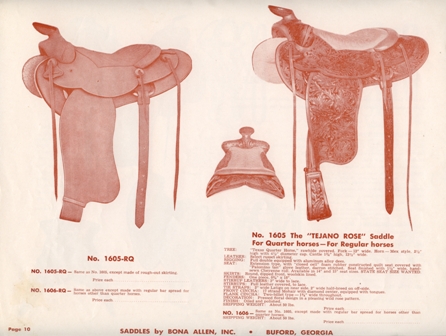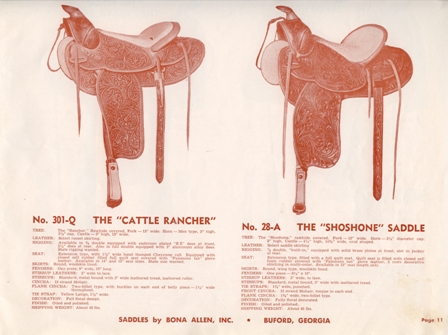 The Bona Allen Company received special acclaim in the 1950s for production of its classic saddles. During the peak of western movies, many of Hollywood's famous cowboy actors, including Roy Rogers, William F. ("Buffalo Bill") Cody, Gene Autry, Kenny Rogers, Lash LaRue, Gabby Hayes, and the cast of the popular TV show "Bonanza," preferred a Bona Allen saddle -- some even bringing their horses to Buford, Georgia, to get them custom fitted. To head its saddle department, the Company hired Victor Alexander, a famous saddle expert from the King Ranch in Texas.[1]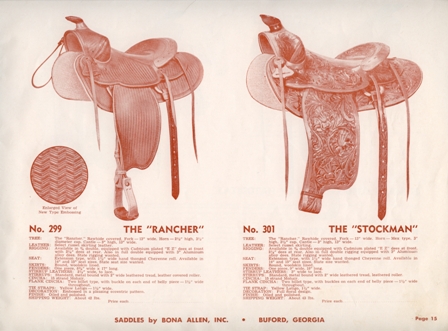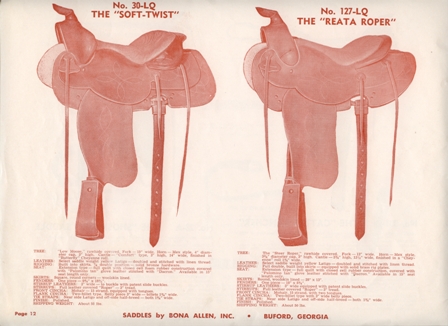 Even if you can afford to own this valuable resource guide, this is an opportunity to continue to use the information to document your collection and yet, not risk damage to your original version.
And... if you don't have access to this original catalog, this is a perfect opportunity to research and learn more about Bona Allen.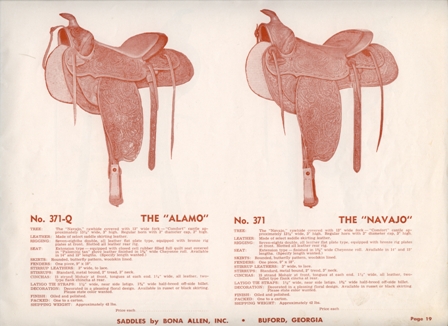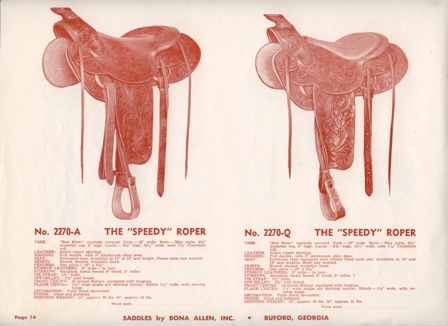 88 pages of Cowboy History.
Look at the detail and the incredible amount of information available
permanently on this CD.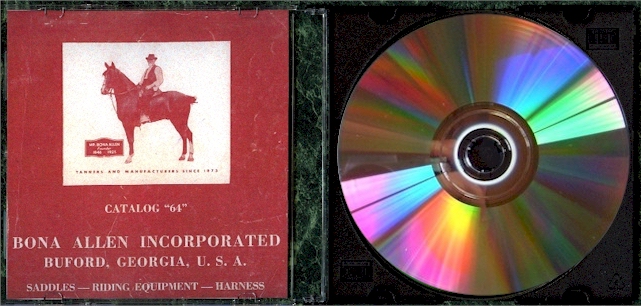 Unlike expensive "Reprints", this .PDF data file contains high resolution
color images which faithfully depict the pages of the Original.
All these pages are scanned into .pdf files for viewing and/or printing from Windows or Macintosh systems.

Payment: Paypal makes it easy to pay securely with any major credit card or e-check. Our goal is to ship the next business day following payment notification from Paypal. Idaho residents please add 6% sales tax to purchase price.
Shipping & Handling: Buyer to pay shipping & handling. U.S.P.S. 1st class is $4.75 US. U.S.P.S. Priority with delivery confirmation is $8.75 US. Most shipments will be made within one day of receipt of payment. Shipments are via U.S.P.S. 1st class mail, unless buyer directs otherwise.
International Sales: Contact sales@cabincreekcds.com for information on shipping and handling charges. We will send Paypal invoice upon request. We will not designate items as gifts to avoid customs charges.


CD Version
Only $12.99 plus S&H
Pay us securely with any major credit card or e-check through PayPal.
(Turn off Pop-Up Blockers Before Using the PayPal Button Below)

Visit our payment instruction page for detailed information on making a PayPal Payment.
You will find options for using your credit card, your bank account or your existing PayPal account.


Download Version !!!
We have created a special downloadable version of this great catalog. Downloading saves time and money by eliminating costs of materials and shipping and handling associated with mailings. This version uses advanced compression techniques to reduce the file size dramatically from the Compact Disk version. It still includes all of the original pages and is great for viewing and printing.
(Click Here for Downloading Instructions)
Only $9.99

Download File 52.7 Megs

New technology has enabled us to dramatically reduce the size of our image files while maintaining excellent resolution.
This allows us to offer you the same great images you see on our Compact Disks in the form of a download.
Files download directly to your computer, no waiting for the mail, at a lower price.
We are using "PayLoadz" to bring this downloading service to you.
For more information about selling your own digital products, click the button below.
Download files require Adobe Acrobat Reader 6.0 or higher.
If you don't already have that version get it by clicking on the button below.